AskoziaPBX
What is Askozia? 
Askozia is a highly intuitive telephone system for businesses.
Askozia is incredibly easy to use, multilingual
and supports VoIP, ISDN, analog and GSM.
The Askozia appliance (Desktop / 19" Small Business / 19" Business) can handle the telecommunication needs of businesses up to 50 people and allows a minimum of 40 concurrent calls.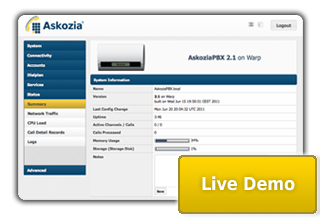 What features does Askozia have?
Voicemail, Fax and Virtual Fax, Support, Conferencing, Transfers, Call Groups, Pickup Groups,Call Parking, Custom-Music-on-Hold with MP3 Support, Multilingual Web Interface and Audio Prompts, Phone Auto-Provisioning, Call Detail Records to PDF, SMS to Email, SIP Trunking, Call Forwarding, Remote Phones, etc.
What are the connectivity options?
Askozia supports all types of SIP phones (e.g. ALCATEL business phones, SNOM, Yealink, Polycom, etc).
Recommended IP PBX Hardware
Telephony Appliance with ISDN/Analog/GSM Module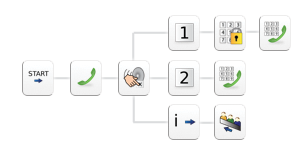 Call Flow Editor
Askozia?s philosophy is to build products that have everything you need, but nothing more. Our goal was to design an IVR tool that?s innovative, simple-to-use and very affordable. The result is the Call Flow Editor.
Completely integrated into Askozia's web interface, you use drag-and-drop to build your own call flows and allow the caller to interact with your phone system via their phone's keypad.
Build your own dailplanes in minutes with our easy-to-use modules (ACD Queues, Call Recording, Maximum Calls, Text-to-Speech, etc.)
Use our templates for a quick start
Use your call flow right away after saving
Record your own announcements with your phone
Use the advanced mode and create complex dialplans with if, switch and goto modules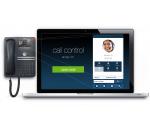 Call Control CTI
Computer telephony increases your efficiency
Askozia Call Control is a CTI (Computer Telephony Integration), designed for all companies that handle high call loads. It helps to reduce response time and increase the operational efficiency of your team. Agents can complete more calls which means the hold time of your customers is reduced. This way customer experience is enhanced, which contributes to the overall success of your business. Besides, Call Control helps to reduce agent training time.
Askozia CTI with Estos or Phone Suite
AskoziaPBX offers innately not own TAPI interface. It can, however, various Asterisk compatible Tapis, be used by third party or uses the web browser-based
Askozia Call Control CTI
Nativ Estos unsupported by Askozia. However, there is a special product that will work when snom phones are used.
https://www.estos.com/applications/phones/snom-sip-telephones
Regarding TAPI, there are several for Asterisk, which can also be used with Askozia.
We show that the wiki using the
xtelsio | PhoneSuite
Tapi:
https://www.askozia.com/handbook/index.php?title=Help_for_Integrators/de#TAPI
---
Page 1 of 2
36 Items Found, Show items 1 - 25
---