beroNet SB BF2FXO Small Business Analog Amt PSTN Gateway > 3CX, Asterisk PBX
beroNet Small Business Gateway
Analog Line with 2FXO (PSTN)
for regular Analog Telecom Line
(Remotely manage and monitor through the beroNet Cloud)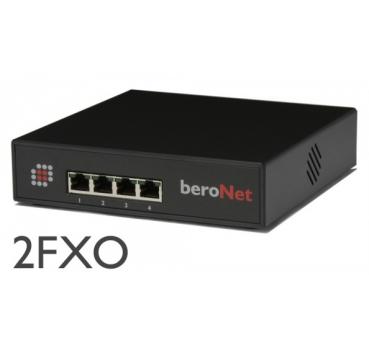 The beroNet Small Business Line is designed for the SOHO area, to connect ISDN(BRI) and Analog (FXO/FXS) Lines to any SoftPBXs like 3CX, Asterisk, Freeswitch, IPTAM PBX, FreePBX, Trixbox, Elastix, Askozia, Gemeinschaft and many more. In comparison to the beroNet VoIP Gateways, the Small Business Line is not modular and has not rack mount-able.
Remotely manage and monitor through the beroNet Cloud
End-to-End
No moving parts, long-life and reliable
Extend your Gateway with additional beroNet Gateways
Silent & can be placed anywhere in the Office
100% ABS Plastic housing, Robust, Lightweight
Specifications:
Codecs: G.723.1 and Annex A, G.729 a/b, G.726, G.711 u/a
G.168/G.165 Echo Cancellation with Echo Path Change Detection, up to 128ms
Voice Activity Detection / Comfort Noise Generation
DTMF Digit Detection and Generation
T.38 fax relay (v.27ter, V.29, and V.17)
SIP User Agent IETF RFC3261 compliant
SIP over UDP/TCP with optional TLS support (SIP signalling only)
TDM bridging over 2 berofix devices through PCM bus interconnection, 8.192 kB/s
Operating temperature: 0-70°C
Compliance: CE (EN55022, EN55024, EN60950)
Power: 12V
Dimensions: 168 x 168 x 42mm
Weight: 660g
The beroNet Small Business Line is comparable in regard to the channel densities with the beroNet 16 Channel Gateway.
Depending on the Media functions which are used the Small Business Line provides the following Channel densities:
Media Functions
berofix SBE
max. available 6 Channels
G.711 incl. HW EC
6 Channels
G.726 incl. HW EC
4 Channels
G.729 incl. HW EC
4 Channels
G.723 incl. HW EC
4 Channels
T.38
4 Channels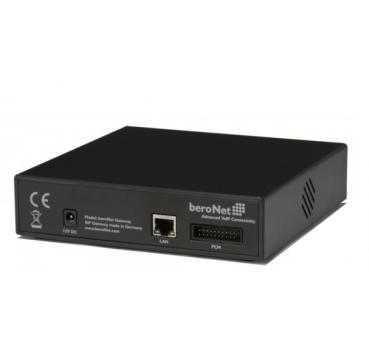 ---
Durchschnittliche Artikelbewertung